"No here we are so close, yet so far, haven't I passed the test. When will you realize, that I'm not like the rest"
-"Give Your Heart a Break" Demi Lovato
So I was at the gym the other day watching the People's Choice Awards and heard Demi perform this song. Seriously guys, I was blown away.
This girl knows how to make a comeback and she is a true inspiration for all those little kids out there watching Disney Channel. Mass props to that girl.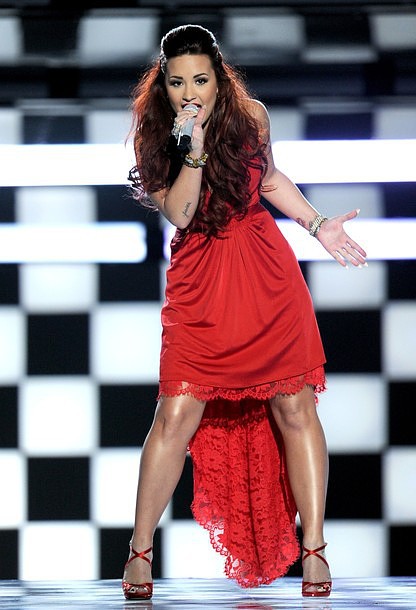 Anyway. Topic of the Day... INSPIRATION.
Fashion Inspiration is everywhere and blogs are a great place to start, but here are just a couple of other tips for changing up your style:
1. Magazines- I know kind of obvious but subscriptions to these magazines will help you out a ton if you're not into watching fashion shows and keeping up to date with runway trends. There are numerous publications but I gravitate towards Seventeen, Teen Vogue and People: Style Watch.
2. Half Price Books- Has a great selection of magazines but I find fashion magazines go fast, so you got to check back often. Sometimes you'll get lucky like I did today and there was a huge stack of old Teen Vogue magazines for 50 cents each. Jackpot.
3. Sketchbooks! I know I mentioned them in my last post, but I just bought a small sketchbook from Half-Price for $5 and it's perfect for sketching cute things you see other girls wearing or just random inspiration that hits you when you're out and about. And if you're not "artsy" enough, you can copy and paste from advertisments, magazines or random print outs!
4. Celebrity Fashion Guides- If you have a celebrity that's already your inspiration, see if you can find a fan page for their street style. I know many teenage celebrities have one such as Taylor Swift, Selena Gomez and Victoria Justice. Literally Vanessa Hudgen's style page was my childhood inspiration.
5. YOUTUBE. As if I haven't beaten the horse...dead? What's the saying? Beating a dead horse? ... You know what I mean. There are dozens of popular beauty and style gurus who showcase their fashion. "Outfit of the Day" or OOTD is a popular segment on a lot of channels and a great place to start because most of those ladies are real people who aren't super high fashion-y (Of course there are some that are, if that's what you're into) so that you can follow their advice without toning it down. (Which I find myself doing with high fashion magazines) My favorites include
MissGlamorazzi: Gorgeous girl with the sweetest personality and a cutesy, classy style
Fleur de Force: Literally like the prettiest girl on YouTube who's British accent is absolutely adorable.
Everything Luxy: Two very beautiful ladies with more mature styles. Think blazers and chic accessories.
Wendy's Look Book: All over Sophistication. Her videos are flawless. Leaning more towards high fashion and the editing to her videos are amazing.
Allright, everyone, hope you enjoyed this post. Off to bed now! I need to catch up on my sleep from an EXHAUSTING week...