"I'm feeling sexy and free. Like glitters raining on me"
-Domino, Jesse J.
Hey everyone! After blogging all yesterday, I literally could not wait to get on my labtop and type away a new post for today! I've been jittery all day in excitement and the old Teen Vogue magazine I read about teen fashion bloggers didn't help...
But at last. I'm here. Sprawled atop of my bed that hasn't been made for well over a week, munching on Honey BBQ Fritos (delish! if you haven't tried) and letting my fingers fly over the keys of my crappy little labtop. <3
Anyway. Today's topic is removing makeup!
We all know that removing makeup is essential to preventing breakouts but oftentimes, we get lazy and end up waking up the next morning with eyeliner on our forehead and drool smearing our foundation. Yum.
So here are the makeup removers I use and which ones I've repurchased:
1. Neutrogena naturals fresh cleansing + makeup remover
Now this makeup remover is an all in one miracle. It takes off your makeup like a charm and I've found that I don't need to scrub to get this to work either. Plus it's super affordable!
How to Apply: What I do is splash my face with water to loosen the makeup and you only need one pump. The product comes out as a opaque white shampoo- texture which by the way smells amazing. I would describe it as a natural floraly scent that reminds me of a fresh spring day after some rain showers. Then all you do is rub in between your hands and apply all over your face. It lathers a bit, and I like to focus on my eye area to get out the mascara residue and etc.
Price: $5.97
Where to buy: Walmart, but I'm sure other drugstores will have it too
Use: Every night and mornings, if you'd like.
Repurchase: Just finished first bottle, definitely repurchasing!!
2. Sonia Kashuk Eye Makeup Remover
Okay, I've got to admit that I'm a HUGE sucker for cute packaging and this sleek design really caught my eye. It's one of those makeup removers that has 3 separate layers, the blueish liquid at the bottom, then a frothy white layer and a clear oil at the top. It isn't that much product as compared to some of the other makeup removers, but it does last a good 2-3 months. This is hands down my favorite makeup remover, because it removes ALL your makeup WITHOUT leaving residue, it's pretty affordable and it has a simple and chic packaging.
How to Apply: Since it separates into layers, I shake it all up first. Next, I take a cotton ball to the top of the bottle, turn the bottle upside down and wipe the product on my eyes starting from the inner corner going outwards.
Price: $10
Where to Buy: TARGET(:
Use: Every night!
Repurchase: Just picked up my second bottle!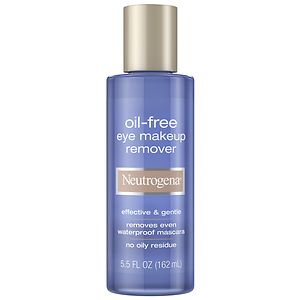 3. Neutrogena Oil-Free Makeup Remover
This makeup remover is great for targeting eyes and if you have a little more time to remove your makeup and then use a separate cleanser. It claims to be oil-free and while I don't dispute this, it does have an thicker texture and leaves an oily residue. I've gotten this in my eyes MANY times before and it doesn't sting at all. It just fogs up your vision for a second or two. The only complaint I have is that when I use this with a cotton ball, I find that occasionally, an eyelash will fall out which is really no big deal, BUT it does freak me out a little cause I have very sparse eyelashes to begin with.
How to Apply: See above
Price: Around 8 dollars
Where to Buy: Walmart
Use: Every night!
Repurchase: Finished two bottles, but probably going to stick with Sonia Kashuk from now on
So there you have it everyone, my top drugstore makeup removers!(: I'm thinking about doing a drugstore mascara review next, but if you have any other skincare/ beauty reviews you like, please leave a comment to let me know!